Edition 117: A fake wireless router to provide fake WiFi to a fake smartphone
Hi. First off, a warm welcome to all my new subscribers - it's always a treat to see so many new people signing up. A quick housekeeping request - I seem to be getting a lot of people still signing up via Tinyletter despite my move to Substack, so please share the Substack link to make signups easier for friends! I'd really appreciate it.
Second, you might be on this list even though you don't remember signing up. I had a very unusual email after my last newsletter from someone who insisted they didn't sign up, when they had in fact just a month earlier. I subscribe to a whole host of newsletters myself, as I'm sure many of you do, and it's completely natural to forget why you're seeing someone's email in your inbox if they're not that frequent - so I just want to say, it's OK. I won't feel bad if you have to leave! The link to unsubscribe is at the bottom of this email.
Over the last few weeks, I had the pleasure of being at two events here in London which were attended by a clear majority of people of colour. London being what it is, and technology and media being what they are, those were really unusual occurrences but truly like a breath of fresh air. The whole vibe of what was discussed in those rooms was different - it's hard to place a finger on. I highly recommend diversifying your meetings if that's something you don't often do. One of the events was for Postscript London, a new cultural anthology for modern women, and Clean Prose, a co-working space for writers and the literary community that is going to open in East London next month (they're taking applications for members).
Links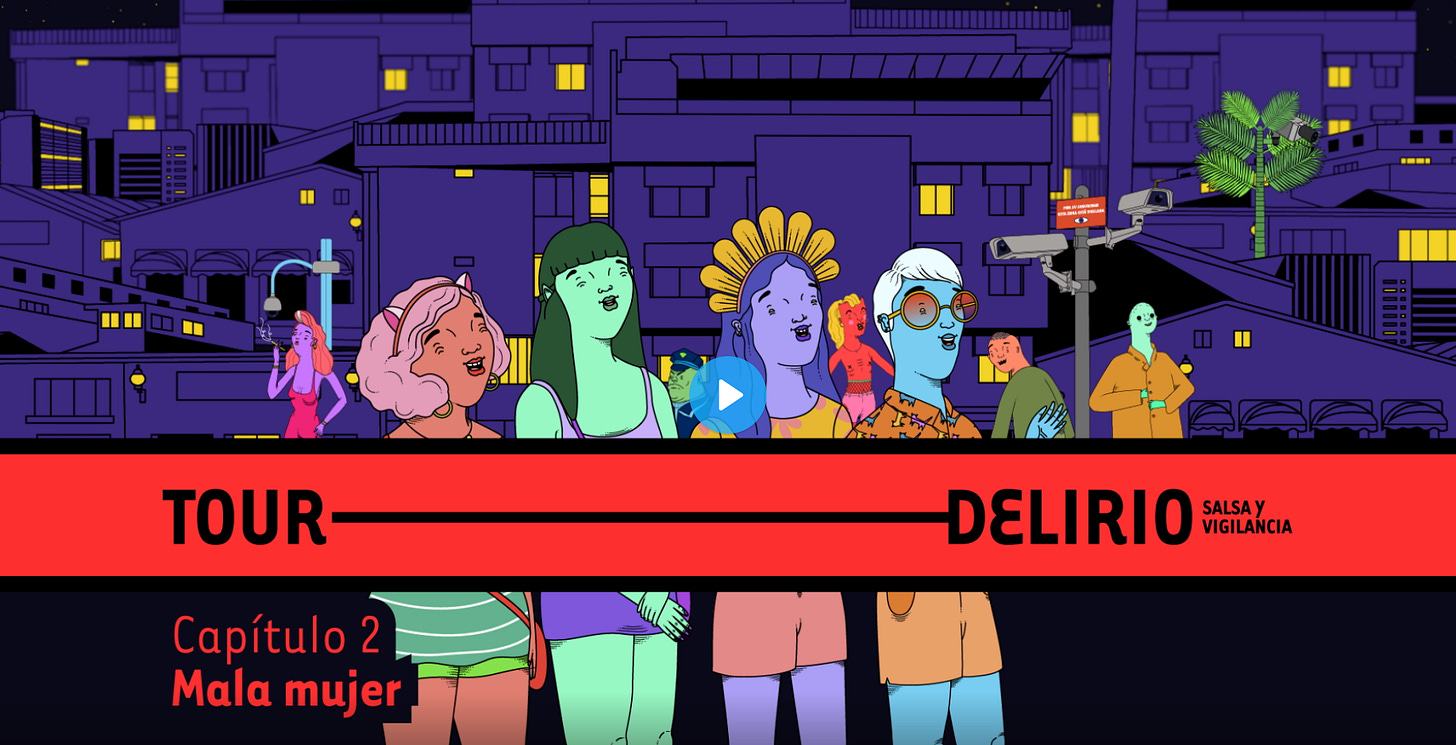 Tour Delirio is a web comic in Colombia that discusses surveillance and gender in Latin America using the language of salsa - music and dance. I really like what Maria Juliana Soto, the creator, says: "What is privacy in a popular neighborhood of a city like Cali, in Colombia? Cali is a place where people keep their front doors open and large families live together, where people spend a lot of time outside in the neighborhood, conversing. There is an idea of ​​privacy that breaks all the time. People are much more distanced from each other in other cultures. This is how our communities assemble in these places, there's very much an "open door" policy. We stay inside much less than other societies. In this context, talking about the importance of privacy is a particular effort, a directed strategy."
Diplomat Kishore Mahbubani gives a TED talk about three ways the West can adapt to a rising Asia: by being minimalist, multilateral and Machiavellian. A lot of this is like a well-known history lesson but it's still an interesting listen.
How big data and lessons from Obama's campaign helped Macky Sall win the Senegalese election.
How Zimbabwe's Friendship Bench project is going global. The Friendship Bench was a project originally started to help psychiatrists reach the many people who need mental health support in Zimbabwe. They did this by training community grandmothers to provide much-needed counsel.
ToneTag is an Amazon-backed startup in India that makes payment possible using soundwaves, especially useful for small shopkeepers that might only be using feature phones. It is soon expanding to Japan, Asia Pacific, the Middle-East, Sri Lanka and South Africa. I have, as that news piece mentions, received chocolates instead of change when I've bought things from small 'kirana' shops in India years ago, so I'm keen to see ToneTag in action when I visit next!
Two of Africa's biggest accelerators have come together: Nigeria's ccHub has acquired Kenya's iHub. This is a great opportunity for partnerships between the many startups that are housed in each of the two, and consequently for economic growth.
Claiming that this would prevent unrest, Bangladesh has cut access to mobile phones for the 1 million plus Rohingyas living in camps. The Economist on how the Bangladesh government is getting increasingly frustrated with the refugees - not a situation which can be resolved easily.
How TikTok is being used by the Uyghurs in China as a sociological tool to communicate in many different ways, trying to beat the algorithm and the powers that be to send the messages they desperately want to. The whole article is worth a read, but this excerpt is a noteworthy explanation of how human rights issues can become memes, in a manner of speaking (and I don't mean to take any of the import of these real atrocities away by saying that): "In August, something unusual began to happen on Chinese TikTok. One by one, dozens of Uyghurs from inside Xinjiang began posting mute selfie videos of themselves in front of pictures of their relatives. Many were crying. "I think there was a mastermind behind it—one or two creative people started it," Hidayat says. It was a wordless, digital flashmob; each video copying the last. "People caught on without getting together, without having to explain the concept. It was completely coded," Hidayat says. "But every Uyghur understood those videos.""
You've heard about 'surveillance capitalism', now let's discuss 'surveillance humanitarianism'; an interesting phrase given the mention of the Rohingyas and Uyghurs earlier here. OneZero looks at whether there are issues with the World Food Programme collecting biometrics of refugees in Yemen, given the conflict situation and the difficulty of knowing which direction (if at all) refugees and governments will want to go between homeland and asylum state.
A look at C3, a UAE-based organisation that hopes to increase social enterprise in the Middle East region, in a conversation with CEO Medea Nocentini. Medea runs this project in her spare time; she is also Chief Strategy Officer at the AW Rostamani Group. On that note, I'm looking for more women who are doing interesting work in emerging markets, particularly around social impact, financial inclusion, identity, data, experience design, user experience, and similar areas. If you know of anyone, please drop me a line with their name and a link to their work and/or social media profile. I sometimes get asked for recommendations and I'd like to have as many talented women to recommend as possible.
Opportunities
InFarm are looking for a Business Development Analyst to work on a huge goal: feeding the cities of tomorrow. Based in Berlin, Germany.
The NYU Wagner School invites applications for its African Women's Public Service Fellowship, with applications due December 2nd, 2019.
Brandwatch is looking for a part-time, remote Hindi social media validator based in the UK.
The title of this newsletter
…is from this story about how Vietnam is trying to appease ghosts by giving them in death some of the luxuries they were used to in life: you know, iPhones, cars, internet…
Endnote
Do send me notes and links to things you're working on that might be of interest to this community: people like you who are smart, clued in, interested in news outside their usual bubble, and keen on knowing what's going on in emerging markets. And if you like what you read, please consider becoming a paid subscriber, I'd really appreciate it.
Till next time,
Anjali
---
Who am I? I'm Anjali Ramachandran. I've been writing this newsletter since 2013. I'm a Director at Storythings and co-founded Ada's List, amongst other things.