Edition 118: Learning English phrases from minor celebrities
Hello everyone!
I'm Anjali, a Director at Storythings (if storytelling around complex issues is your thing, sign up to our newsletter) and co-founder of global network for women in tech Ada's List (we have our annual conference in London on November 9th, open to the public, all genders!) amongst other things. Quick heads up about a project I mentioned in my last newsletter: if you're in London and interested in writing, come to the grand opening of 'Muses', an exhibition to celebrate the launch of Clean Prose, a co-working space for writers in London. Spaces are limited but if you'd like to attend please email info@postscript.london
A shout-out to Other Valleys friend and subscriber Arpita Verghese, who introduced me to Brooke Partridge, Founder and CEO of Vital Wave. I had the chance to speak with Brooke on the phone a few weeks ago, and was impressed with the work they do in developing countries, mainly around the strategy, implementation and evaluation of development programmes. Check them out.
Links
"I don't trust the Syrian pound, I don't trust the American dollar, they are just paper. But bitcoin yes, we can trust it" - just one quote from this story about the Open Academy, a school in North Syria where students have confidence in blockchain - and bitcoin - as systems that can change their conflict-ridden society in many ways. Highly recommend. Related: this OneZero story on how blockchain is solving ID problems for students in Uganda via a Norwegian app called Diwala.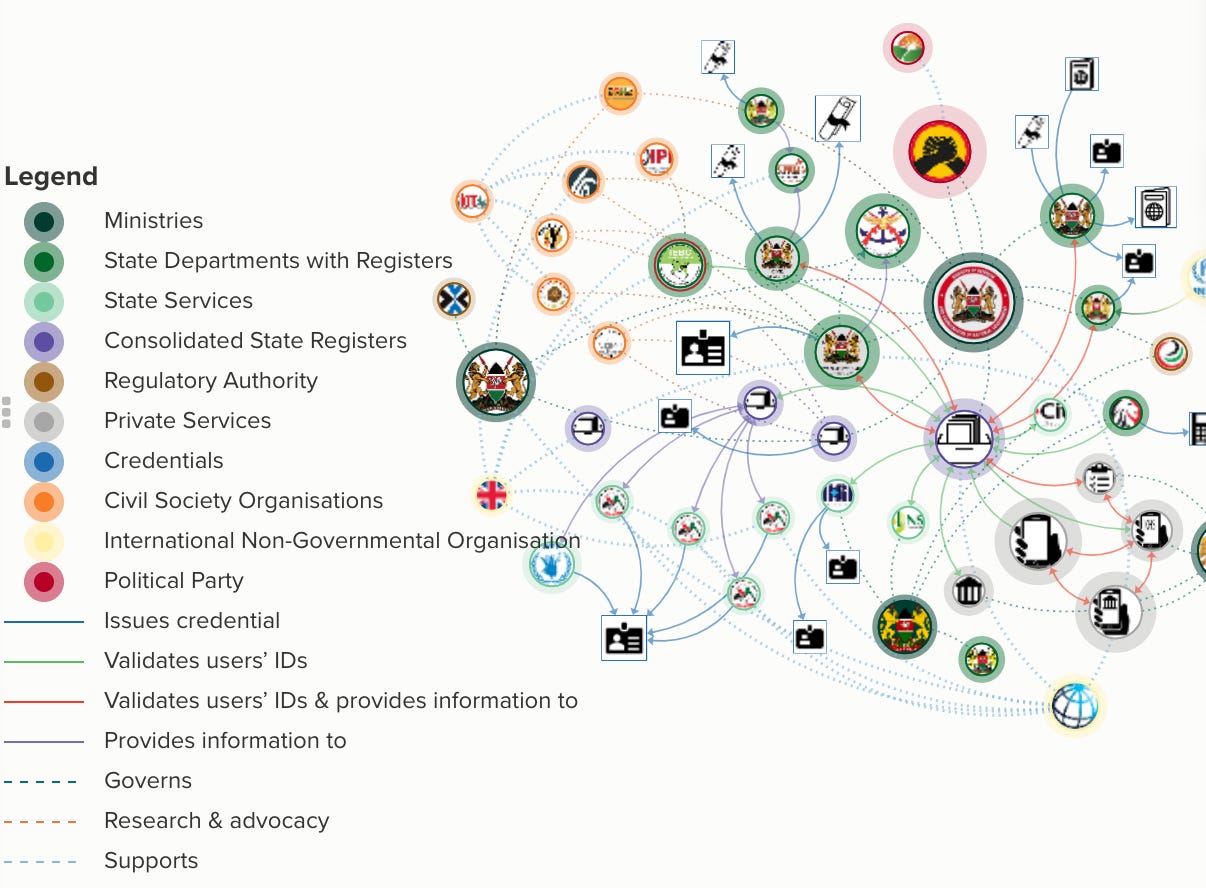 Storythings friends Caribou Digital, with whom we worked on the Identities Project last year, have done a thorough review of Kenya's digital identification ecosystem. Here's a summary, and here's the full report (PDF). Also worth looking at this map of the ecosystem (if you click on each component of the map, a summary of what it is opens up on the left). Kenya has recently proposed introducing a new state identification system called Huduma Namba, which I've covered here before, and it's worth considering that in the light of the rest of the research. Civil society isn't happy with it, but as the report says, there are indications the government is reconsidering their approach.
A really comprehensive long look at the activity in the mobile money 2.0 space in Africa. Covering the usual suspects (M-Pesa), but also new players in this space in Kenya, Nigeria and more. I was particularly interested to learn about KaiOS, "a challenger operating system — now third after Google's Android and Apple's iOS — with the capability to run apps that were only previously restricted to the two major operating systems." The cost of devices running KaiOS is an incredible $25 - which means that people can go online and communicate via apps like WhatsApp, bypassing phone network costs altogether. In India, the poster child for KaiOS is the Reliance Jio phone, which anyone familiar with telecom market activity there will know is almost killing other competition. As this article says, for good reason: it has converted "tens of millions from 2G feature phone users to Internet-enabled 4G users".
Podcast recommendation: Mosaic of China, interviews with people who are making a mark in China, hosted by Shanghai-based Oscar Fuchs, who used to head ChapmanCG, a global executive search firm.
The right-wing Rashtriya Swayamsevak Sangh (RSS) has been urging Netflix and Amazon Prime Video officials in India not to produce content that is 'anti-Hindu' or 'anti-India'. Hello again, censorship.
China's new cyber-security programme is going into full gear (if it hasn't already). A new Foreign Investment Law kicking into effect on January 1, 2020 will mean that all foreign-owned enterprises will be treated exactly the same as Chinese companies. What does this mean? "This means intra-company VPN systems will no longer be authorized in China by anyone, including foreign companies. This in turn means all company email and data transfer will be required to use Chinese operated communication systems that are fully open to the China's Cybersecurity Bureau. All data servers that make any use of Chinese based communications networks will also be required to be open to the Cybersecurity Bureau's surveillance and monitoring system." Also read about how China is using business as a means of controlling Hong Kong, in the New York Times.
An inspiring group to know: the Geochicas use OpenStreetMap to showcase instances of violence against women, for example in shelters set up during disaster relief where women are particularly vulnerable, and instances of femicide (when women are murdered for literally being women), in Latin America.
Club Factory is a Chinese e-commerce company that's raised a $100 million Series D round led by Qiming Venture Partners, with Bertelsmann and IDG Capital participating. From this piece: "The company claims to sell "trending items" for 50 to 80 percent less than what they would go for on other popular e-commerce sites such as Wish, eBay and Amazon. It does this by letting customers shop directly from factories it finds with its patented big data technology. In September, KrAsia reported that India had become Club Factory's biggest market." Interesting.
A new series on Netflix, Unnatural Selection, looks at gene editing and Crispr, following characters from Burkina Faso to Ukraine. On my watch list.
Microsoft's Airband Initiative to connect rural areas through broadband, initially launched in the US, is expanding internationally, starting with Latin America and Sub-Saharan Africa. In the US, the project uses unused TV white space (TVWS) operating in the 600 MHz spectrum to offer broadband; internationally they want to add other 'innovative technologies'. I remember attending a workshop a few years ago where the Microsoft team spoke about the work they were doing in the US, so this is interesting, even if it has taken them a few years to expand.
Opportunities
Short films about Africa and produced in Africa are invited to apply to the iamAFRICA Short Film Competition, a collaborative initiative between the Pan African Film Festival (PAFF), The Africa Narrative at the University of Southern California Norman Lear Center, and YouTube. Deadline for applications is October 31st.
Pakistan and the Global Polio Eradication Initiative are looking for innovative ways to help quickly detect, control and/or respond to the spread of anti-vaccination propaganda on social media in an urban population, through technology. The competition requires only a written submission and there's $30,000 to win. The deadline is November 8th. Thanks to Sara Williams for sharing.
Hot Pot China is looking for a Project Manager based in London, UK. The role will involve overseeing strategy and campaign projects for clients looking to make an impact in China.
The 2019 Women in Leadership Forum organised by the Cheung Kong Graduate School of Business (CKGSB) and UN Women will be held in Beijing, China on November 20th.
The title of this newsletter
..is from this Quartz piece about EduTok, one of the ways TikTok is being used to help Indians learn English. TikTok has seen a lot of negative press lately so this is worth noting, particularly in light of Mark Zuckerberg's insistence on turning a blind eye to the problem of spreading misinformation on Facebook, and Twitter's on allowing political personalities to say what they want, only 'hiding' violating tweets if needed. If EduTok is a serious attempt to have the platform used for good in a way that is transparent, then I'm all for it.
Endnote
I'd love to know what you're working on if it might be of interest to this community: people like you who are smart, clued in, interested in news outside their usual bubble, and keen on knowing what's going on in emerging markets. Drop me an email.
Best,
Anjali
---
You can support this newsletter by becoming a paid subscriber:
sharing via email, Twitter, or the platform of your choice:
or by clicking the 'heart' symbol at the bottom of this post on Substack. Thank you!