Edition 120: Employees blind to transactions taking place in their own bank
Hello! Lovely to be back in your inbox. I'm Anjali Ramachandran, Director at Storythings and co-founder at Ada's List.
---
What's Up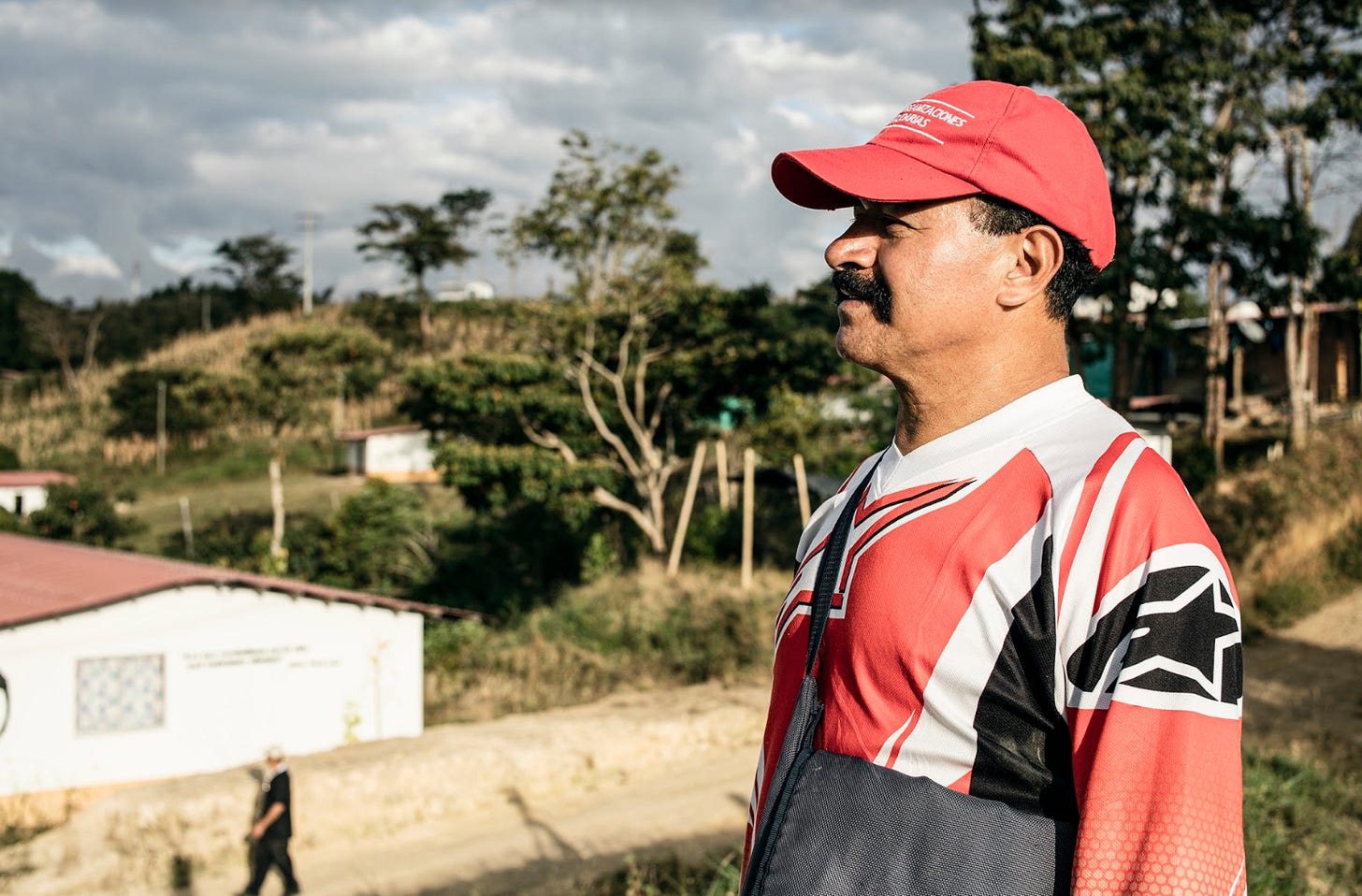 The fourth and final episode of Identities of the World came out a couple of weeks ago. It's one of the most interesting stories I've worked on: that of Rubén Dario Jaramillo, an ex-FARC fighter who's set up a community-oriented artisanal brewery in Icononzo, Colombia with his fellow ex-guerrillas. Take a look.
If you know anyone in London who'd like to get into the games industry, Ada's List is hosting an event with Niantic Labs on March 5th. Free to attend - the password to get your ticket is N1ant1cEvents.
Links
It would be remiss of me not to mention the sheer carnage going on in India right now. It is horrific, frustrating and tragic, and more people should be aware of what can happen when the police and judiciary even, to an extent, are in the pocket of the ruling party who are hell-bent on inflicting untold damage on citizens and the country. My friend Samanth Subramanian writes in The New Yorker, a reminder from Deepanjana Pal on Instagram that 'the victim need not be victimised' in photos that you share on social media, and a first person account by Vijayta Lalwani of what she witnessed.
Gitahi Ng'ang'a, the founder of Hoji, a Nairobi-based software company that provides mobile data collection and analysis software for field research, wrote a strong opinion piece about the general preference for open-source software in digital development and how it's not always a good thing. It's interesting to see this viewpoint, as open source is definitely revered in the global North.
The new Huoshenshan hospital built in Wuhan, China to deal with the coronavirus outbreak saw an unmanned grocery store with a custom cashier system built in five hours. It uses an e-receipt system so there's no need for people to refill paper rolls for bills. Here's a video.
Some interesting bits from this WARC research on gaming culture in South-East Asia: "In the League of Legends community, Korean players are reportedly more likely to surrender early in a losing match because they tend to play in PC Bangs where they pay by the hour. After all, why pay to spend time losing?". Also interesting that in general South-East Asians don't think console gaming is superior to playing on mobiles, where most of them spend their time.
An amusing story from another friend, Ammu Kannampilly at AFP: a suite of apps that exist to tackle a very Asian (particularly South Asian) problem: young couples who want privacy but can't get it in their homes. Consequently, apps built for one purpose realised they had a business in another: "StayUncle founder Sanchit Sethi initially planned to target business travellers with his app focusing on hourly rentals but when he began fielding enquiries from couples he realised he was targeting the wrong customer." I know a few people who've been through this problem, so there's definitely a market, shall we say.
Heartwarming (and who doesn't like Muppets): a new Sesame Street show is bringing Muppet Magic to refugee camps.
Back to India and its WhatsApp addiction, combined with some deepfakery: an Indian politician recorded a video in one language, and it was duplicated in another using technology, then spread in over 5,800 WhatsApp groups in the Delhi and NCR (National Capital Region). This Vice story raises some of the key issues and speaks to people who articulate the very real dangers of this: "To say only some forms of deepfakes are allowed by political parties, allows for a lot of subjectivity and interpretive power on who defines those forms," says Tarunima Prabhakar, co-founder of civic tech project Tattle, that aims to build an archive of content circulated on WhatsApp. Clearly WhatsApp owner Facebook hasn't got down to dealing with deepfakes yet as they announced earlier in the year - they're probably busy sorting them out on their own platform first (I say sarcastically).
While on the topic, here's another reason why social media platforms like WhatsApp and in this case YouTube are problematic in a country like India: it is getting people killed as they turn to these videos for information about the coronavirus.
Fascinating - analysing cyber threats across Africa (for the data nerds amongst you there are plenty of data sources and data visalizations too!). I didn't know about the 2012 cyber breach in Addis Ababa at the HQ of the African Union - which lasted FIVE YEARS. Also, on Huawei, this has all the makings of a film or at least a TV show: "In 2012, China funded the building of a $200m USD new building in Addis Ababa with the contracts being awarded to Chinese companies for the internal technology infrastructure. In 2017, 5 years after the completion of the African Union (AU) HQ, it was discovered by analysts that data transfer activity was at a peak every night between midnight and 2 am, starting from 2012 till January 2017. It was discovered that the data from all systems were being migrated to servers based in Shanghai. China denied all accusations with the AU refusing to comment on this breach. As a result, however, the AU severed its ties with Ethio Telecom, and implemented encryption for all electronic communication and built entirely new infrastructure. But now begs the question, for 5 years what cyber policies were in place to monitor network activity? It is also worth noting that the bulk of the infrastructure that was replaced was Huawei networking equipment…". Also worth reading this story the article links to, for more on the Huawei controversy in Africa.
Love this: Namya Joshi, a seventh grader from Ludhiana, Punjab, India is a Minecraft expert, helping her mother (a teacher), fellow students, and multiple other teachers and students around the world. The funniest bit? How she uses Minecraft to meditate by 'planting trees' when her mother shouts at her!
TIL: What I thought of for years as static electricity is actually a version of the triboelectric effect. This effect, combined with synthetic biology, was used by the team at Keio University in Japan to get plants and trees to generate electricity, in a project called Raiki (or 'Future Tree' in Japanese). It could be extremely useful in poorer homes where they can't afford wind or even solar power - all they'd need is a plant. As a piece of speculative design it's really intriguing.
Opportunities
Atlassian is looking for a Senior UX Researcher in Sydney, Australia.
Founders Factory is looking for a CEO in Bangalore, India.
Netflix has a bunch of cool jobs going: Coordinator, Korean Originals in Seoul, South Korea, Head of Campaign Operations - APAC in Singapore, Senior Researcher in Consumer Insights and Partner Marketing Creative Manager in Mumbai, India - and many more.
The Dubai Future Foundation is running a course on storytelling in April featuring friend of the newsletter Scott Smith.
The title of this newsletter…
…is from this excerpt from Ben Buchanan's book The Hacker And The State, a fascinating tale of North Korea's attempts (some successful) to rob banks across the world.
Endnote
That's it for this week. If you're working on something you'd like to share, give me a shout! And all shares are much appreciated:
As are people who'd like to become paying subscribers:
Till next time,
Anjali