Edition 122: 'A combination of techno-snobbery, limited formal training, an aging pool of experts...'
Hello. I'm Anjali Ramachandran. I keep an eye on interesting creative and technology news in the non-US/UK parts of the world. Thanks for subscribing, and hope you're all OK in the new normal.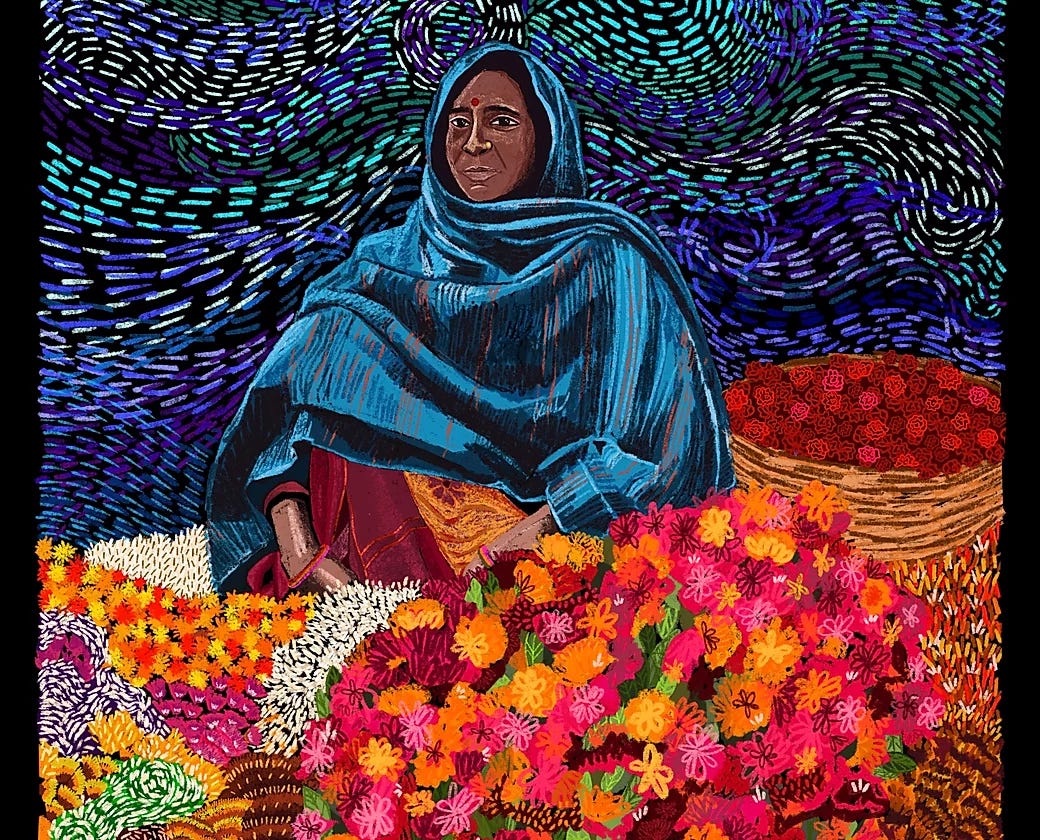 Kempu Gulabi Sticker by Sanjana Hariprasad
. The artist is selling her merchandise for a cause
this week on Instagram
, with proceeds going to towards helping 
@safasociety
 make and distribute provision packages for daily wage workers in Hyderabad, North Karnataka, Bangalore, and Chennai, India.
What's Up
I would love to say that there's lots of brilliant stuff been going on - in the world, the sheer dedication of the medical staff who are carrying us through this crisis is one of them - but it feels hard to see much more, as I have sometimes felt these days. I hope everyone is getting through this as best they can. Whether you have time to learn a new skill or have enough to do to just stay afloat, whether you're able to help neighbours or you can't because of your personal circumstances, stay safe and healthy.
Links
The inventor of the first home pregnancy test is now working on a rapid diagnostic test for COVID-19 in collaboration with a Senegalese company. UK-based MoLogic is working with Dakar-based DiaTropix to produce a testing kit that will be less than £1 to manufacture, with the aim of allowing it to be easily available in Africa.
There are going to be a host of privacy-related issues with many of the initiatives being launched by governments and private organisations in response to the current crisis. In India, the state of Karnataka wants people to upload selfies through an app which has location-tracking enabled. In Wuhan, China, now out of lockdown, an app shows a delivery person's body temperature in a map when they're on their way to you. Israel and Turkey all have versions of apps where they track people who have been diagnosed with coronavirus, as well as their contacts, ostensibly to prevent spread. The EU meanwhile is trying to come up with a tracking solution that doesn't breach GDPR.
ZunRoof, an IoT-enabled solar roof manufacturing company, raised a $3 million Series A round led by the Godrej Family Office. Reminded me of one of the US-based companies we covered in our Frontier Tech for Climate report recently, Aurora Solar.
Al Jazeera's podcast The Take looks at what might happen when coronavirus hits refugee camps.
A new podcast called Ex Machina, hosted by technology lawyer and author Rahul Matthan in India, will look at 'the hidden stories about how technology changes society and how the technologies developed in India are going to affect the world.'
A group of Bulgaria-based organisations are running a 100% nonprofit initiative called DIY Ventilators to provide free peer support for people working to build breathing devices at this time.
Two university professors have used blockchain to create a digital court, where decentralized ledger technology can be used to settle legal disputes like auctions, sales and business contracts. According to them, "On suspected violation of some agreement, those involved post their opinions to this digital court. The court algorithmically aggregates the parties' opinions and judges who violated their agreement. If the digital court judges that a party violated the agreement, the party is fined by withholding a deposit made during the initial agreement." China used blockchain in a legal setting last year.
Watch a video of Rio de Janeiro's Christ the Redeemer statue lit up with messages encouraging support for people affected by COVID-19 across the world.
Excellent resource from Pat Eskinasy who noticed something about the asks and offers related to COVID-19 - a lot of them are being duplicated to asymmetry of information. FocusFork is a place to list everything you know of that might help people right now: apprenticeships, repurposing commercial assets for public good like manufacturing PPE or ventilators, donating equipment, contributing funds and so on.
Jobs & Opportunities
Hala Systems, which develops advanced solutions for civilian and asset protection, accountability, and the prevention of violence before, during, and after conflict, is looking for a Yemen Team Lead (Field Ops and Data Analytics).
Rest of World, a new New York-based international journalism publication that will focus on technology-related stories outside of the Western world (very much like this newsletter), is looking to hire for a number of roles including Regional Editors for Southeast Asia, Latin America, South Asia and MENA.
Berlin's Hertie School's Centre for Digital Governance is looking for a Post-Doctoral Researcher in Digital Governance/Government, applications due by 30th April.
FinStep Asia and Medici are looking to help students who've lost internships as a result of COVID-19, and are launching a remote internship initiative for those interested in interning with fintech firms. Apply here.
Frida, the Young Feminist Fund, is looking for a young feminist Program Associate who can be based anywhere in South/Southeast, East Asia and the Pacific. Applications due by May 4th, 2020.
From the community
Friend of the newsletter Tom Price and his team at photographers Ecce Opus have started something new: a curated photo project for people to share stories of kindness during the COVID-19 outbreak. Centred around hands, the project is an acknowledgement of their centrality and their power to do good or ill. If you'd like to get involved, share a story about a kindness you've given or received and a picture of your hand, to be showcased on Instagram. Contact Tom and find out more on Instagram @lendahand2020.
The title of this newsletter
…is from this Bloomberg piece about how some US government systems are woefully unequipped to deal with the changes they need to make as a result of the new CARES Act stimulus package passed in late March - changes that are over 30 years in the making. Any COBOL programmers out there?!! No, that's not a joke…
Endnote
Do drop me a line if you've noticed anything interesting that I might be able to help highlight. Sharing this newsletter on Twitter, LinkedIn, email or any other platform of choice is always appreciated - though if you do use the 'any other' option let me know what it is :)
Till next time,
Anjali