Edition 123: 'This is 2020. Please stop this nonsense, Japan'
Hi! I'm Anjali Ramachandran and this is your semi-regular dose of things I think are worth noting around creativity and tech in non-Western parts of the world.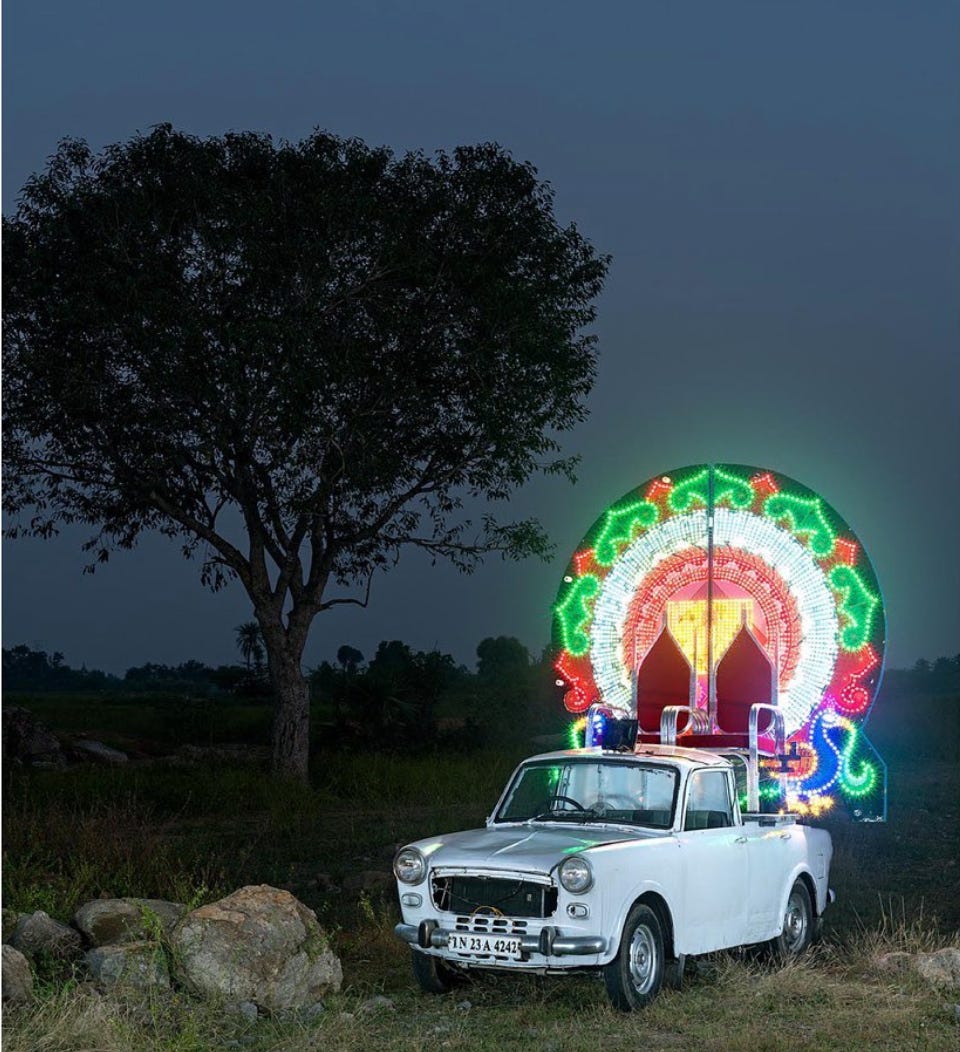 Sameer Raichur, The First Fiat, 2017, shot at Kunnathur, India via

Prints for India on Instagram
What's Up
Though there is talk of the lockdown restrictions easing in various parts of the world even as others have started getting back to somewhat regular business, it doesn't feel like that yet. It feels like we're in limbo, and I hope that that gets better for everyone soon - not least those hardest hit by this virus.
I featured in a documentary photo project by Yana Binaev called No Bleach For Me recently - the title explains it, but do read what she has to say about why she started the project. If you work in public media anywhere in the world, you might also be interested in tuning in to the launch webinar Storythings is running for the inaugural Public Media Stack report on Tuesday May 19th. Sign up on Zoom here.
Links
Every1Mobile have launched two sites to help people in Africa with COVID19 prevention and management. It uses WHO guidelines, and they have a language-localised site in Kiswahili for Kenya. The sites are accessible through the most basic web-enabled feature phones, and is designed to consume as little data as possible. Check out https://endcoronavirus.co.ke/ and https://endcoronavirus.africa/ and share it with anyone you know in those countries who might find it useful.
Ola, the biggest competitor to Uber in India, launched a programme called Ola Connects without much success, ostensibly to help farmers in Punjab by notifying them when they could go to the local markets to sell their produce. It didn't work, with a lot of farmers unable to download the app. Power now reverts back to the local agents who issue tokens to farmers instead.
A new VC fund for female founders in Southeast Asia has launched. Say hello to Singapore-based Her Capital. The UK and US have had female and minority founder focussed funds of some sort for a few years now, but there hasn't been anything notable in Asia.
A Council on Foreign Relations podcast episode discussing India's use of WhatsApp, the government's attempt to use it to trace and censor messages, and what that means for democracy and privacy. Interviewed are Chinmayi Arun, Resident Fellow at Yale, Vindu Goel, Technology and Business reporter at the New York Times, and Seema Mody, Global Markets Reporter for CNBC.
Fascinating Twitter thread about undersea cables in West Africa, what that's meant for rural broadband access, and the amazing news that the Governor of Ekiti State in Nigeria has reduced Right of Way taxes by 96% to make the internet more accessible.
Niki Gomez of Cybersalon writes about life under lockdown in Sri Lanka, where digital services are seeing a boom even as local knowledge continues to prove useful to know where and when small-scale vendors will be around to buy form.
Facebook, Vodacom and others have partnered to triple Africa's internet connectivity through 2Africa, the largest subsea cable project in the world, scheduled to go live in 2023 or 2024. It will connect 23 countries across Africa, the Middle East and Europe.
Interesting read: Japan's criminal yakuza gangs find the times are tough (boo hoo) due to the coronavirus: "being "felled by a tiny virus" would be seen as a sign of weakness in the "macho world of the yakuza"."
Yasmine Boudiaf has created a programme using C++ and a PlayStation Eye camera to preserve Algerian hand gestures, with the aim of "capturing the emotional vocabulary of these gestures before they are forgotten completely". As she says, "In these post-Covid-19 times, we have an opportunity to be creative with our ways of safely interacting. Taking inspiration from the hand gestures of different cultures is a way of communicating between people without loss of emotional context."
In the Guardian: how Kerala's Health Minister, affectionately called 'Shailaja Teacher' given her background in education, helped significantly control the coronavirus spread in the state, despite a population of 33 million people and a much lower GDP than the US or UK.
Jobs and Opportunities
The Venture for Africa C19 Fellowship allows anyone anywhere in the world to apply for a remote 3-month full-time fellowship with 3 African startups. From this announcement in Ventureburn, "In the interest of filling roles as soon as possible, Venture for Africa and participating startups have committed to expedite normal application timelines and let candidates know whether they have been fast-tracked within two weeks of applying, with a goal of launching the programme by 1 June."
GSK is looking for a Digital Regional Manager for the Middle East and Africa based in Dubai.
Twitch is looking for a Director of Agency Development APAC, based in Singapore.
The title of this edition…
…is from this South China Morning Post article about how Japanese hospitals are filing paperwork to do with COVOD19 by FAX! I wrote in an earlier edition about Japan's love for paper - this may be taking it too far!
Endnote
Send me notes and news! Sharing this newsletter is always appreciated too.
Hope you all stay safe and well.
Till next time,